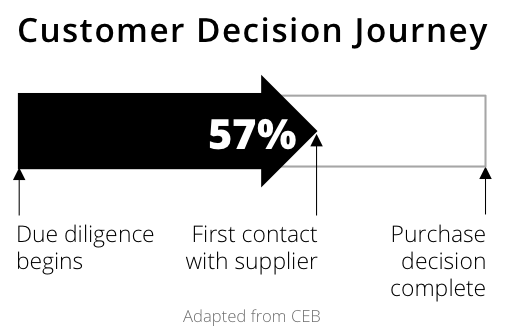 Are Buyers Really Farther down their buying process?
What additional value does CRM provide the seller?
It has been well commented on and studied that the customer is now in charge and is better prepared and farther along their buying decision process than in years past. With the large quantity of information available, prospects typically have done their homework before really engaging with your sales force.
A well-used CRM enables sales people to have interesting, provocative and stimulating conversations that make their prospect want to continue the dialogue. There is way too much to remember and get right without having a well-used CRM handy and full of insights about a customer or prospect. The value of CRM is to provide a cradle-to-grave view of your customers. Using insightful knowledge delivered from your CRM your sales team can be much better prepared for these advanced buyer conversations.
In the spirit of sharing with others helpful insights, the following is shared with you.
---
It's a statistic that's been widely quoted and even more widely misunderstood - the idea that the typical modern B2B buying decision process is "57% complete" before the customer even talks to the supplier.
Or you may have seen it quoted as "65%" or "two thirds". It doesn't matter, because all the figures are precisely wrong.
I think the original statistic came from a CEB* study but it has been naively interpreted and driven many thoughtless conclusions. You see, like many statistics, it's simply a headline-grabbing average that hides a wide variation in actual behaviour.
Subsequent studies by other organisations - including one by IDC - have revealed subtleties that any B2B sales and marketing organisation need to take into consideration before they decide to make far-reaching changes to their go-to-market strategy…